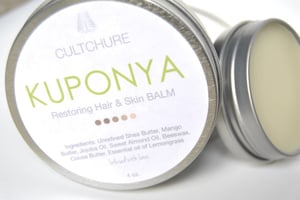 $

16.00
Kuponya Hair and Skin balm is designed to help hair and skin retain moisture, strengthen, and heal from the inside. Reduces the appearance of stretch marks and dark marks on the skin, evens skin tone, soothes psoriasis, eczema, and other skin irritations.
For use after shower/bath/shaving: Massage a small amount into slightly damp skin after showering/bathing/shaving to lock in moisture, nourish, and pamper your skin. Over time, the overall condition of your skin will dramatically improve.
For skin irritations: Massage a thin layer to the cleaned, affected area as often as needed.
For hair: Adds brilliant shine when used as a pomade for finished styles; styles such as buns, twists, twist outs, wash n gos, braids, coils, and more. Balm may also be applied after moisturizing for sealing purposes. Apply sparingly.
Ingredients: Shea butter, mango butter, cocoa butter, sweet almond oil, jojoba oil, beeswax, and essential oil of lemon grass.
Products are made in a loving, spiritual, cruelty-free environment.
*******The benefits of all products are amplified if proper diet and exercise are in place. I recommend a balanced diet of protein, veggies, fruits, grains, healthy fats, and lots of water. It's also essential to exercise at least 3-4 times per week (this also encourages healthy hair growth and radiant skin). If hair loss/excessive breakage is an issue, consult with your doctor concerning thyroid or hormonal problems. If you're already on medication, that could also be the culprit. It is important to know the cause of any problem prior to treating it. *******